Mr. David Ramirez hosts an annual beach photoshoot in Freeport, TX. This year, I was honored to attend all three events he coordinated from before sunrise until after sunset! We started at Surfside Beach, took a lunch break at the Beachfront Deck Bar & Grill, and ended at San Luis Pass. There were more than a dozen models and photographers in attendance at each, and it is incredibly exciting to see how each work and view the set differently.  
For the first location, I chose a silky pastel pink gown that I felt would complement the colors of the sunrise, and boy did I ever choose right!! I should have started with the gown tied more loosely around my neck as it is a little large for me to wear, but I adjusted after seeing the first few images on the back of a camera. S.S. Exotics provided 3 beautiful babies for the photoshoot, and I was lucky enough to have one draped across my shoulders for a short time! I should have reviewed proper handling procedures beforehand, but I just tried to be as gentle as possible and keep it out of the water completely. Watching the sunrise was epic - I don't recall ever having viewed that glowing orb from across the ocean before. It rose a deep reddish orange and burst through the first set of clouds with so many gorgeous sun rays.
Beachfront Deck Bar & Grill offered some vibrant colored tables, swings, and bar tops to pose with! I didn't know this beforehand, but I already had selected a "sporty" bikini that matched very well! The shade from the deck was much appreciated, as the sand heated up quickly with the sun. By the end of this set, my calves were on fire. Thank goodness for Pat Carrigan & Shevi De Lux grabbing a beach-front place for us to hang out between sets, because we were in desperate need of a quick shower and makeup refresh!
Do you know how difficult gold leaf is to work with?! For almost 2 hours, Elissa's mom (Mrs. Gwen) tore pieces of gold leaf for Elissa Garza to adhere strategically across my body. The ride to the location took a little of a toll on the "outfit", as the adhesive wanted to stick together where my legs creased. We had to dry all the sweat and try to re-place a few of the patches. The first dip into the water was going to be a REAL test. Salt water was NOT a great addition, but the artwork did not totally dissolve! We were able to continue shooting with the warning that the look might need a little touch-up during processing. I am not as used to wearing my hair up for a shoot, but David requested my hair be slicked back into a bun for the Goldie look, and he was on point with that suggestion! 
The night before this photoshoot, Elissa and I shaved my entire body to ensure a good "stick" for the gold leaf. The outfit took two full scrub downs to remove, but so far, I have seen no skin reactions to the design! 
Images composed, captured, and processed by David Ramirez
Images composed, captured, and processed by Joe McKinney
Image composed, captured, and processed by Mark Hudson

Behind-the-scenes footage & images composed and captured by Elissa Garza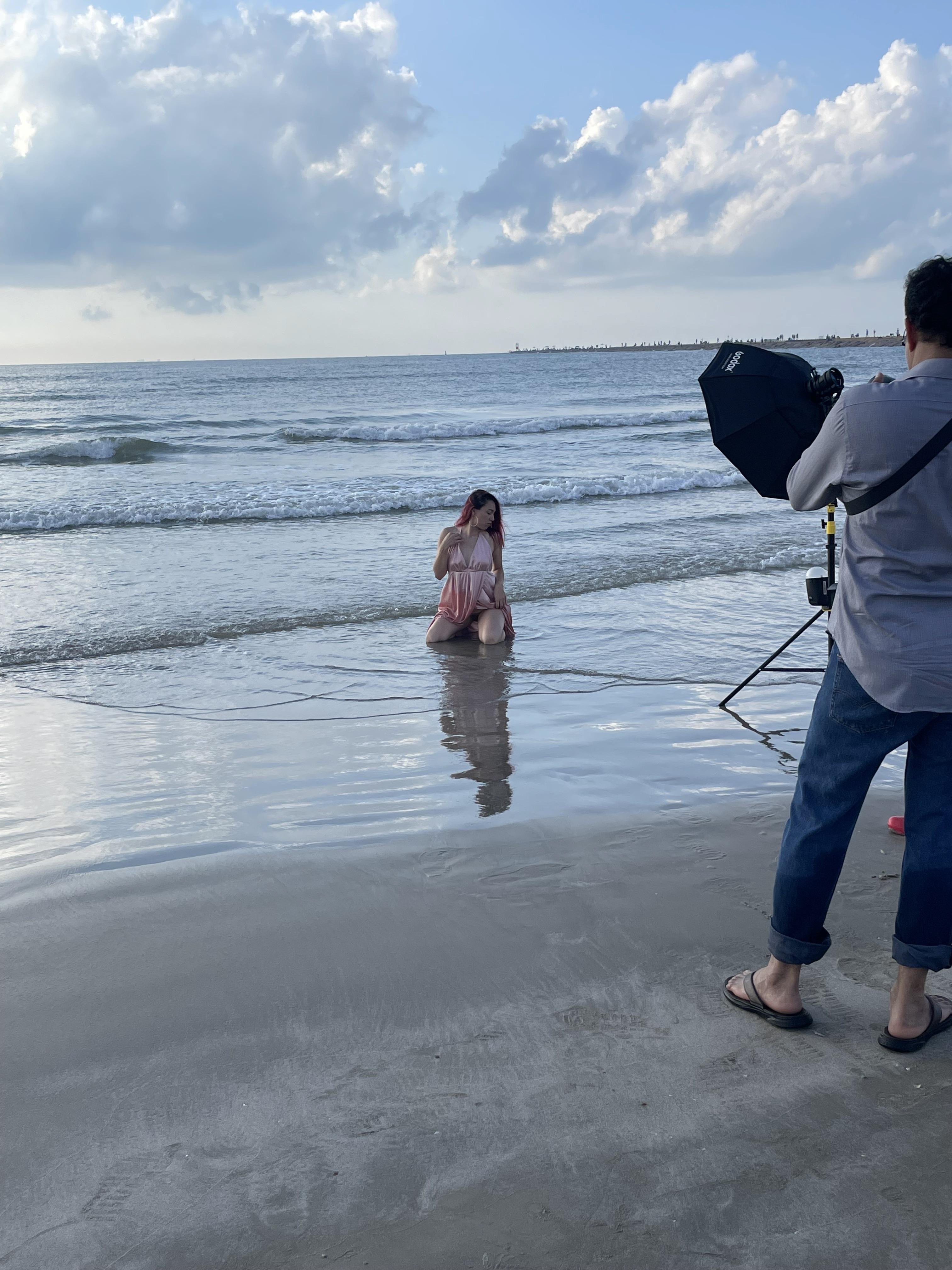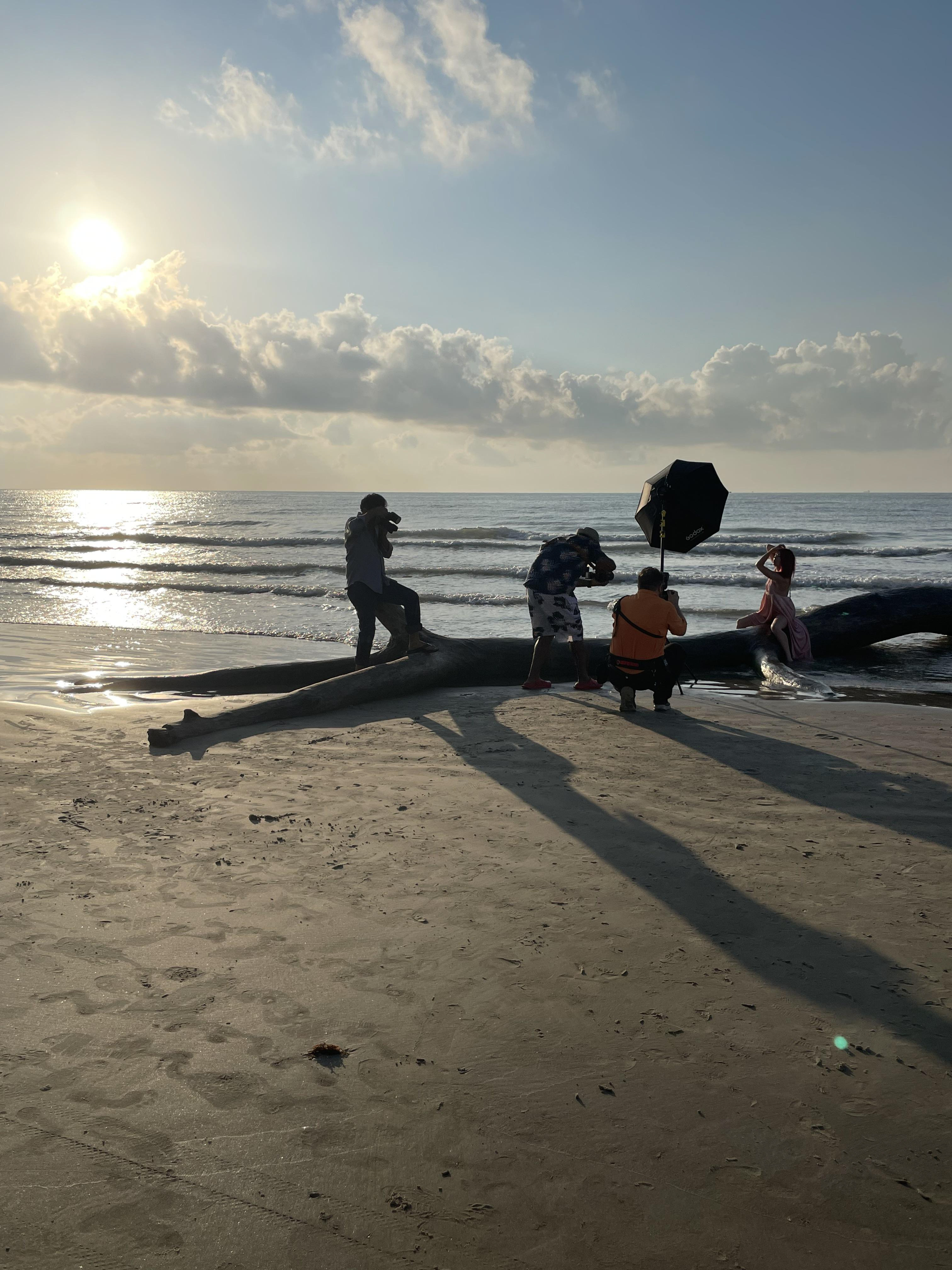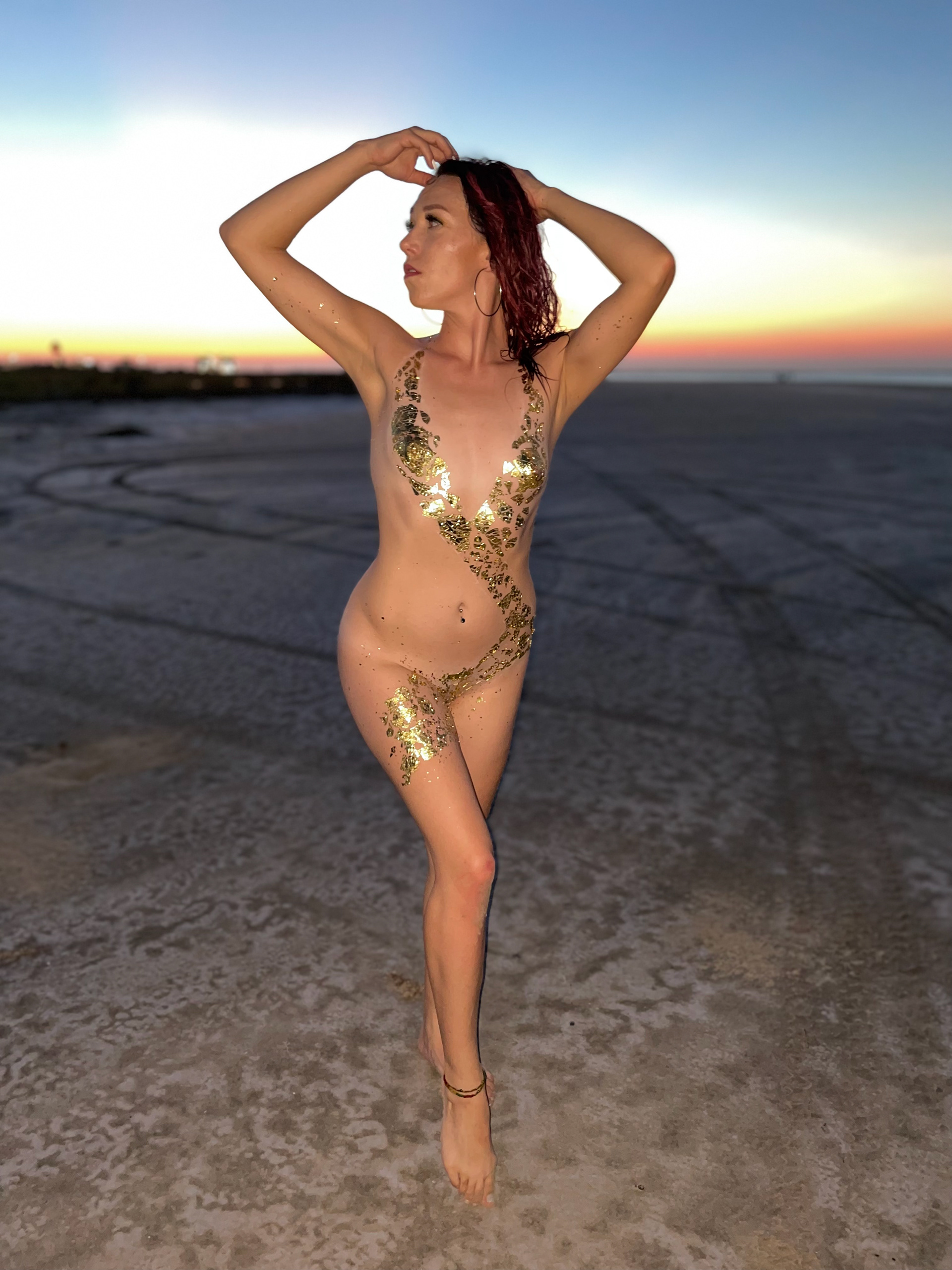 I've never smoked a cigar before, but I try to stick to the motto "try anything once, and a few more times too if you like it" - as it turns out, I might just have another again soon! When my friend Ashley Keadle and her boyfriend Andy mentioned that the Lounge needed a couple more models for their annual calendar, I knew I had to try it out! 
I brought along a whole wardrobe, but ended up utilizing 3 different outfits for the sets. The little black dress was the one I wore for my college graduation, and the floor length red gown was for my high school senior prom. Mom took me dress shopping, and the story behind her meeting my dad always insisted that a similar number she donned that night had a lot to do with it lol. The moment I saw that gown, I had to have it, and Mom was very proud to allow me to confidently pick such a bold dress! She made it clear when she dropped a hefty dime on a piece of clothing, it better be worn more than once; I am beside myself to be able to utilize this beauty to this day! Thank you again, Mom & Dad! 
Behind-the-scenes footage & images composed and captured by Elissa Garza

Shevi De Lux has been an inspiration for years, and is now my most trusted mentor. She assisted with both my outfit and glam for this car show! A good friend, Jackie Hanson, invited us out to the pin-up contest. It was a HOT one - so hot my shoes even melted! - but we survived & had the best time! 
Images composed, captured, and processed by David Ramirez
Behind-the-scenes footage & images composed and captured by Elissa Garza